Posts for: May, 2015
By Wester Dental Care, P.C.
May 29, 2015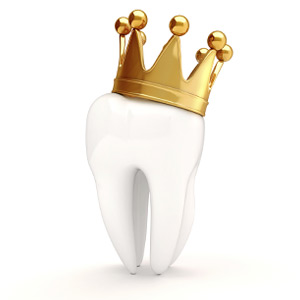 If your tooth sustains damage that compromises its structure — typically through decay or trauma — you have several options depending on the extent of the damage: One of them is a crown. This method saves the tooth and its root and completely conceals the visible portion of the tooth, or crown, under a natural-looking cap made to mimic as closely as possible the size, shape and color of the original tooth.
Crowns also hide imperfections in the original tooth like discoloration, chipping, fractures, excessive wear (from bruxism, or tooth grinding, for example), or abnormalities in the way the tooth formed. And they're used following root canal treatments, which treat infected pulp at the center (canal) of a tooth root by removing the pulp and replacing it with an inert, rubber-like material.
Saving the natural tooth has long been the goal of dentistry because normal micromovements of the tooth root, which is suspended in its jawbone socket by elastic ligaments, stimulate the surrounding bone to rejuvenate. Without that stimulation, the bone continues to lose old cells, but no longer replaces them. Crowns are also designed to restore tooth function.
The function and location of the damaged tooth can determine what material the crown will be made of. If the damaged tooth is clearly visible when you smile, porcelain, the most realistic-looking material, is almost always used. If the tooth receives significant bite force, a stronger material is considered — either, a gold/porcelain combination, or a high-strength ceramic. If you are restoring a second molar, an all-gold crown may be considered.
With the advent of dental implants, saving a damaged tooth is no longer the only option for preserving the health of the bone surrounding the tooth root. The implant — a tiny biocompatible, titanium screw-like artificial root — is placed in the jawbone and is then capped with a natural-looking crown of course!
If you would like more information about dental crowns, please contact us or schedule an appointment for a consultation. You can also learn more about this topic by reading the Dear Doctor magazine article "Crowns & Bridgework."
By Wester Dental Care, P.C.
May 11, 2015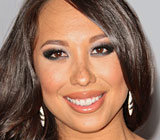 If you've ever watched Dancing with the Stars on television, you've no doubt noticed the vivacious and talented Cheryl Burke, whose ballroom dance moves are as captivating as her bright smile. In fact, Cheryl considers her smile to be one of her most important assets as a professional dancer.
"As a performer, you're basically smiling the whole time," Cheryl told Dear Doctor magazine recently in an exclusive interview. "It's just really important to take care of your teeth and have a great smile."
Cheryl is very conscientious about caring for her smile, but that wasn't always the case. In the Dear Doctor interview, Cheryl revealed that her teeth suffered from ineffective oral hygiene when she was younger. "I definitely had my share of cavities," Cheryl recalled, adding that she believed this was her own fault. "I didn't use floss," She explained. "I think when you do floss frequently, it helps to reduce the chances of getting cavities. It took me a while to figure it out."
Once Cheryl did figure it out, she was able to make cavities a thing of the past. But in order to make sure the effects of her prior tooth decay did not mar her lovely smile, she made sure her dentist — who is also her stepdad! — gave her tooth-colored fillings that could not be distinguished from the surface of a natural tooth. "It's important for me," Cheryl said.
Lots of dental patients feel the same way, even if they don't spend time in front of television cameras. That's why the dental profession has developed tooth-like materials such as composite resins and porcelains that mimic natural tooth material exactly. These materials are also suitable for children's teeth and can incorporate fluoride to reduce tooth decay. It's even possible to replace old silver-colored fillings with these newer dental materials.
If you would like to learn more about tooth-colored fillings, please contact us to schedule an appointment for a consultation. To read Dear Doctor's entire interview with Cheryl Burke, please see "Cheryl Burke." Dear Doctor also has more on "The Natural Beauty of Tooth-Colored Fillings."