Posts for tag: missing teeth
By Wester Dental Care, P.C.
September 14, 2017
Patients who have missing teeth or major tooth and gum problems often have questions about dental implants. Implants are the modern solution for replacing teeth and are now often preferred over other solutions like dentures and bridges. Here are a few of the most common frequently asked questions about dental implants, answered. Having more knowledge of this dental treatment may inspire you to take action and call your Portage, MI dentist to see if you're a candidate for this procedure.


How Do Dental Implants Work?
Dental implants are designed to serve the same purpose as the root of a tooth. They are small titanium devices that resemble screws that are inserted into the bone tissue below the gumline. When the implant heals into the bone, which may take several months, an abutment and permanent crown are placed on the top. With a porcelain or ceramic crown, the implanted tooth is indistinguishable from your other teeth.

Why Are Dental Implants the Best Solution?
The main reason why dental implants are the ideal solution is that they are permanent. Once they're installed, they're no different than any of your other teeth in terms of function and appearance. They also help keep the bone tissue healthy and strong. When you get dentures or bridges, the bone tissue can degrade over time.

Who Can Get Dental Implants?
Only patients who have generally good dental health can get dental implants. Viable bone tissue is needed to ensure that the implants will stay rooted. That's why it's important to see a dentist for a tooth implant as early as possible. In some cases, a bone grafting procedure can help improve a patient's chances of having a dental implant integrate successfully.

How Long Will Dental Implants Last?
For patients of a certain age, a dental implant has a good chance of lasting for a lifetime. The crown part of the implant can last for up to 15 years before it may need to be replaced. Seeing your dentist at least two times every year for professional cleanings and becoming meticulous about at-home dental care will ensure that the implant (and your other teeth) stays strong and healthy.
Contact your Portage, MI Dentist
Dental implantation is a straightforward and effective procedure that can help improve your dental health and the appearance of your smile. Call your Portage, MI dentist to schedule an appointment.
By Wester Dental Care, P.C.
September 08, 2016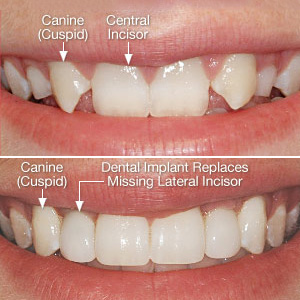 When you look at the top row of a normal smile, you'll see symmetrical pairs: the central incisors in the middle, flanked by the lateral incisors and the canine (or eye) teeth on the outside of them.
Sometimes, though, teeth may not form as they should: in fact, it's one of the more common congenital defects with one in five people having missing or deformed teeth, often the upper lateral incisors. In the latter case, it's not uncommon for the eye teeth to drift into the missing lateral incisors' spaces next to the central incisors. This creates a smile even a layperson can tell is off.
There is a way to treat this with orthodontics and cosmetic dentistry that will transform that person's smile while restoring better mouth function too. It's often a long process, however, that's best begun early and must be precisely timed with dental development.
Using braces, we move the drifted teeth back to their proper positions, which will make room for a future dental restoration. It's usually best to begin this treatment during late childhood or early adolescence. The next step is to fill the newly-created space with prosthetic (false) teeth.
Dental implants are an ideal choice since they're durable and life-like, and won't require permanent alteration of adjacent teeth. They do, however, require a certain amount of bone volume at the site to support them; if the volume is insufficient we may have to place a bone graft to stimulate new growth.
It's also best not to install implants until the jaw has finished development, usually in the late teens or early adulthood. In the interim between tooth repositioning and implants we can customize a retainer or other removable appliance with a false tooth to occupy the space. This not only enhances the smile, it also prevents the repositioned teeth from drifting back.
These steps toward achieving a new smile take time and sometimes a team of specialists. But all the effort will be rewarded, as a person born without teeth can have a new smile and improved oral health.
If you would like more information on treating dental development deficiencies, please contact us or schedule an appointment for a consultation. You can also learn more about this topic by reading the Dear Doctor magazine article "When Permanent Teeth Don't Grow."