Posts for: July, 2015
By Wester Dental Care, P.C.
July 30, 2015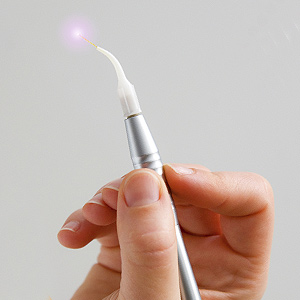 Since their development in the laboratory over five decades ago, lasers have found increasing use in our everyday lives. In the field of medicine, it's not uncommon to find lasers in the offices of dermatologists, ophthalmologists and surgeons, to name just a few. Now, some dentists are finding that lasers can offer an alternative means of treating gum disease — and one that may have advantages in certain situations.
You probably know that a laser produces a special kind of light — in fact, its name is an acronym for "Light Amplification by Stimulated Emission of Radiation." Essentially, a medical laser uses electrical energy to produce an intense and narrow beam of concentrated light. This light can be directed to a particular area, often via a fiber-optic channel. The laser's precision allows a doctor or technician to focus the light energy exactly where it's needed — to remove diseased tissue, seal off blood vessels, and sterilize a wound, for example.
For several years, periodontists — dentists who specialize in treating diseases of the gums — have been researching the use of lasers for treating certain types of gum disease. In standard clinical practice, hand-held instruments and ultrasonic cleaning tools are used at regular time intervals (3 – 6 months) to remove the sticky bacterial biofilm, as well as calculus (tartar), that forms in between teeth and gums. If that still isn't effective, gum surgery may be required to access the affected area, remove diseased tissue, and reduce pocket depth (the space below the gum line that gets larger as bone loss occurs) to prevent reinfection.
Recently, however, several new procedures have been developed that use lasers to accomplish some or all of these goals. One type of therapy uses a special laser that emits pulses of light with a specific wavelength (color) of 1064 nanometers. This light passes through healthy cells like a sunbeam through a window — but when it encounters darkly-pigmented bacteria, it vaporizes them instantly!
One of the potential advantages of laser treatment is its precision: focused directly on the area where trouble occurs, it targets diseased tissue but leaves healthy tissue alone. Another is that laser treatment is less invasive: It requires less tissue removal, and may cause less discomfort and tissue shrinkage (gum recession) than conventional periodontal surgery. And because it produces small amounts of heat, it can seal blood vessels and help control bleeding.
While lasers have long shown promise for treating gum disease, until recently it wasn't clear if they offered any advantages over traditional methods. Now, several studies have shown that certain laser treatments can be just as effective as traditional gum surgery in many cases — with the potential benefit of being less invasive. In the future, the use of lasers for periodontal procedures is likely to increase.
It's important to remember that no single treatment — not even a laser — can "zap" gum disease in one fell swoop. Controlling periodontal disease requires effective at-home oral hygiene combined with regular professional care. If you have questions about periodontal disease, please call our office to schedule a consultation.
By Wester Dental Care, P.C.
July 15, 2015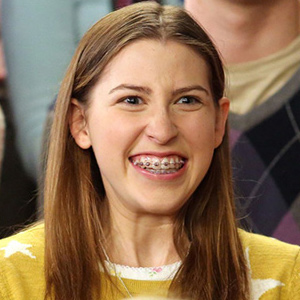 Fans of the primetime TV show The Middle were delighted to see that high school senior Sue, played by Eden Sher, finally got her braces off at the start of Season 6. But since this popular sitcom wouldn't be complete without some slapstick comedy, this happy event is not without its trials and tribulations: The episode ends with Sue's whole family diving into a dumpster in search of the teen's lost retainer. Sue finds it in the garbage and immediately pops it in her mouth. But wait — it doesn't fit, it's not even hers!
If you think this scenario is far-fetched, guess again. OK, maybe the part about Sue not washing the retainer upon reclaiming it was just a gag (literally and figuratively), but lost retainers are all too common. Unfortunately, they're also expensive to replace — so they need to be handled with care. What's the best way to do that? Retainers should be brushed daily with a soft toothbrush and liquid soap (dish soap works well), and then placed immediately back in your mouth or into the case that came with the retainer. When you are eating a meal at a restaurant, do not wrap your retainer in a napkin and leave it on the table — this is a great way to lose it! Instead, take the case with you, and keep the retainer in it while you're eating. When you get home, brush your teeth and then put the retainer back in your mouth.
If you do lose your retainer though, let us know right away. Retention is the last step of your orthodontic treatment, and it's extremely important. You've worked hard to get a beautiful smile, and no one wants to see that effort wasted. Yet if you neglect to wear your retainer as instructed, your teeth are likely to shift out of position. Why does this happen?
As you've seen firsthand, teeth aren't rigidly fixed in the jaw — they can be moved in response to light and continuous force. That's what orthodontic appliances do: apply the right amount of force in a carefully controlled manner. But there are other forces at work on your teeth that can move them in less predictable ways. For example, normal biting and chewing can, over time, cause your teeth to shift position. To get teeth to stay where they've been moved orthodontically, new bone needs to form around them and anchor them where they are. That will happen over time, but only if they are held in place with a retainer. That's why it is so important to wear yours as directed — and notify us immediately if it gets lost.
And if ever you do have to dig your retainer out of a dumpster… be sure to wash it before putting in in your mouth!
If you would like more information on retainers, please contact us or schedule an appointment for a consultation. You can learn more in the Dear Doctor magazine articles "The Importance of Orthodontic Retainers" and "Why Orthodontic Retainers?"